In Memory
Claude Crumpton [Crump] Kirby, III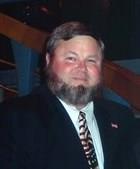 March 3, 1951 - January 31, 2018
Claude Crumpton Kirby III, aged 66, passed peacefully on Wednesday, January 31, 2018 at Baptist Medical Center surrounded by loving family and friends. "Crump" was born on March 3, 1951 in Jacksonville to Claude Crumpton Jr. and Patricia Kirby. He was raised on the south side of Jacksonville and graduated from Samuel Wolfson High School. He married Catherine Holton on May 5, 1973. He was a longtime member of Southside Baptist Church and San Jose Country Club.

Crump spent over 40 years as a certified vehicle leasing consultant and fleet manager at GT Leasing until partially retiring in 2017 to spend more time fishing and playing with his grandchildren. He was a past president and active member of the Southside Business Men's Club and volunteered his time on Thursday evenings to call bingo at San Jose Country Club.

He is survived by his loving wife and best friend Cathy Kirby, sister Geri Bowman (William), son Christopher Kirby and daughter-in-law Sarah Dilworth, daughter Casey Newmeyer and son-in-law Charles Newmeyer, niece Katy Droubie, grandsons Miles Newmeyer, Jonathan Kirby, and granddaughter Eleanora Newmeyer.

Family, friends and others whose lives Crump touched are invited to attend a visitation at Hardage-Giddens Oaklawn Chapel, located at 4801 San Jose Blvd., from 6:00 – 8:00 pm on Thursday, February 8, 2018 and a Celebration of Crump's life at Southside Baptist Church, 1435 Atlantic Blvd., Jacksonville, FL at 2:00pm on Friday, February 9, 2018. Graveside services immediately following on Friday at Oaklawn Cemetery.

Donations can be made to the Southside Business Men's Club building fund.