In Memory
Jeffrey C [Jeff] Roulston VIEW PROFILE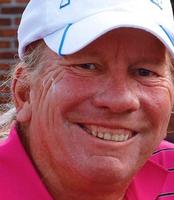 April 22, 1952 - May 13, 2019
Jeffrey C. Roulston, 67, of San Mateo, passed from this life on Monday, May 13, 2019 at Putnam Community Medical Center. A native of Duluth, Minnesota, he resided in San Mateo since 2002 coming from Warm Springs, Georgia. In 1970, while a freshman at the University of Florida, Jeff was involved in a motorcycle accident that left him paralyzed from the mid-chest down. Following rehabilitation, Jeff completed his A.A. at Broward Community College in Fort Lauderdale. He continued his education by enrolling at the University of South Florida and in 1976 graduated with his master's degree as a Rehabilitation Counsellor.
During this time at USF, he was a lecturer to rehabilitation counseling and nursing classes on living in a wheelchair and served as Program Coordinator with Rap Cardre Peer Counseling Program. Over the next few years, he served in many capacities including as Chairman, Citizen Advisory Committee on Transportation for the Disabled (Hillsborough County), Consultant with Jackson Memorial Rehabilitation Center, Jacksonville Area Liaison to the U.S. Council on the International Year of Disabled Persons, served on the Florida Statewide Spinal Cord Injury Program Advisory Council, the Florida Council of Handicapped Organization Executive Board and was Chairman of the Florida Statewide Advisory Council for the Center for Independent Living Network. Jeff was also interviewed on Info 4 (WJXT -4); Jax at Noon (WTLV-TV) to discuss disability and community programs and was a guest speaker and panelist at various workshops in Tampa and surrounding areas. Jeff also started Self Reliance in Tampa – the first independent living facility for the disabled in Florida. Upon moving to Jacksonville, he started another independent living facility - Cathedral Court. After moving to the Atlanta area, Jeff served on the Atlanta City Council Task Force on Concerns for Disabled Persons, was a member of the Department of Medical Assistance Consumer Advisory Council. In 1987, he served as the President of the Georgia Association for Independent Living. Jeff also served as the Director of Independent Living Services for the State of Georgia. In 1988, Jeff was appointed by Executive Order as a member of the Governor's Employment and Training Council. In 1989 he became Human Services Program Supervisor in the Division of Rehabilitative Services at the Roosevelt Warm Springs Institute for Rehabilitation where he eventually retired in 2001 following 10 years as the Director of Vocational Rehabilitation Unit. Throughout Jeff's career, he was also called upon as an expert witness in injury litigation cases to help evaluate levels of compensation to individuals who had sustained paralyzing injuries. But, perhaps Jeff's most rewarding accomplishment of all his amazing career was that he was instrumental in influencing the passage of the American with Disabilities Act (ADA) in 1990. He received an invitation from President George Herbert Walker Bush to be present at the signing of the law. Jeff was especially proud that his many years of advocating for those with disabilities was finally going to make a lasting difference in the lives of others.

Despite his permanent injury, Jeff led an amazingly active life. He enjoyed many physical activities including parasailing, bowling, camping, fishing and whitewater rafting. In the 1980's, he won a Decathlon. While living in the Atlanta area, Jeff was a member of the Atlanta Lawn Tennis Association (ALTA). It was through Jeff's involvement and participation that the ALTA was able to sanction and form a wheelchair league through the National Foundation of Wheelchair Tennis (NFWT). Jeff was the captain of a 4-man team that competed for the city championship. Another of Jeff's athletic passions was golf. A member of the Live Oak Golf Club in Fruitland followed by a membership at Palatka Golf Course joining Palatka Men's Golf Association, Jeff could be found regularly playing the course with his wife Peg, in a special (roof-less) cart that allowed him to lean out and swing the club with his right arm. He also enjoyed riding his adapted motorcycle.
He was preceded in death by his parents, Reyburn Roulston and Nancy Leroy Roulston and stepfather, Al Lieberman.
Jeff is survived by his devoted and loving wife of 42 years, Margaret "Peg" Roulston of San Mateo, his stepmother, Ruth Roulston of Fort Lauderdale and 7 sisters, Wendy, Lucy, Lori, Abbey, Debby, Randy Jo and Mary.

A celebration of Jeff's life will be at 1:00 P.M. Sunday, May 26, 2019 at Johnson-Overturf Chapel in Palatka with Bro. Ricky Bybee officiating. In lieu of flowers, the family requests memorial donations be sent to the Palatka Golf & Country Club Association, attn Andy Heartz, 1715 Moseley Ave., Palatka, FL 32177. The family also invites attendees to wear cheerful clothing to honor Jeff's active and amazing life. Arrangements are entrusted to Johnson-Overturf Funeral Home in Palatka.
Click here to see Jeffrey C [Jeff]'s last Profile entry.