In Memory
Faye Elizabeth Preston VIEW PROFILE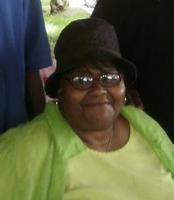 Faye Elizabeth Preston (Debbie) born in Orangeburg, S. C. to the late Margaret Preston Sistrunk & James Harrison, Jr. on January 28, 1952.
She was reared in Jacksonville by her mother and aunts District Missionary Sarah Summers of Southside C.O.G.I.C. Debbie at an early age accepted Christ into her life. She has since been a beautiful example and inspiration to many. She served in several capacities in the church as a member of choir and the YWCC.
She received her early education from the Duval County Public School System, attending Douglas Anderson high school and graduated from Samuel W. Wolfson high school in the Class of 1970.
Faye was one of the original workers for the church Little Saints day care at 4058 Old St. Augustine Road touching the lives of many children as a day care worker she love working with children. Later she started working for the Duval County public school board as a child care worker until she became disable and later retired.
She loved her family, neighbors, church and friends. Most of all she was a child of God. Her hobbies were cooking and flower gardening. She made the best sweet potato pies and potato salad that you could eat and she didn't mind sharing Betty Crocker nor the Iron Chef could compare!
Sis. Preston is survived by her dearly beloved Son; Travis Elliott Preston, Brother; John Victor Sistrunk. Sister-in-law; Johnnie Lewis Sistrunk, Brother; Jerry Walls Summers, Sister-in-law; Sadie Summers, Sister; Yvette Sherrill, Niece; Akima Sherrill, Cousin; Eleanor Preston, Life-long friends; Myrtle Faye Ahouzi, Martha Lee, Cousins other loving relatives and many sorrowing friends.
Ms. Preston will be laid to rest in the St. Nicholas Cemetery.
Click here to see Faye Elizabeth's last Profile entry.