In Memory
Claire Winifred Naughton (Howard) VIEW PROFILE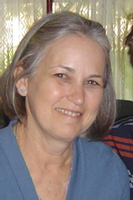 Claire Winifred Naughton Howard, age 60, joined the angels in heaven November 4th, 2012. She passed peacefully early in the morning with her husband Chuck by her side.
Claire was born on April 2, 1952 in Jacksonville, FL to the late Daniel and Winifred Naughton. She was one of five children. In 1999, she met and married the love of her life, Charles Howard Jr., who survives her.
A wife, mother, grandmother, sister, aunt, friend, and teacher, Claire touched the lives of everyone she knew. She shared her love, selflessness and strength with not only her friends and loved ones, but also her students. As a teacher for more than 20 years she brought joy and compassion to the classroom. She loved what she did so much; Claire continued to work during her entire battle with cancer.
Claire dedicated much of her free time to her faith. She was and active member of the Catholic Church, with ties to both the St. Paul's and Assumption parishes. She volunteered as a Eucharistic Minister, a lectern, a singer in the church choir, and participated in various outreach groups.
Claire is survived by her daughters and sons-in-law Carmel & Gabriel Laserna of Jacksonville Beach, FL; Jeanne & Faron Boggs of Tallahassee, FL; Bridget & Matt Shaver of Houston, TX; nine grandchildren; Chance-12, Grace-11, Will-9, Audrey-7, Gabriel-5, Scarlett-4, Lucile Claire-3, Elsa-2, and Juliana Claire-7 weeks; three brothers; Daniel (Diane), Michael (Renee), and John Naughton; 10 nieces and 9 nephews.
Her parents, her sister Patricia Naughton, and sister-in-law Mary Naughton precede her in death.
A rosary & visitation will be held Wednesday evening at 6:30pm followed by a memorial mass Thursday, November 8, 2012 at 10am; both by Fr. Kelly at St. Paul's Catholic Church, Jacksonville Beach, FL. Interment will follow in the Greenlawn Cemetery.
Donations may be made in memory of Claire Howard to Community Hospice of Northeast Florida, 4266 Sunbeam Road Jacksonville, FL 32257.
Click here to see Claire Winifred's last Profile entry.